"For The Love Of Bueno Chex's" is my newest horse pendant. Sometime around 1978-1979 we purchased Bueno Chex's out of the Reno Snaffle Bite Futurity Sale. He was a kind and gentle stud horse and threw us some very awesome colts. He came back to mind so very strongly as I was designing this sterling silver, copper, brass pendant with a turquoise focal point stone cut by Jason Brousseau, NM. The pendant measures 3½"h x 2"w and hangs from an 18" heavy copper chain.
With five decades of ranching, roping and riding, the horse has been a big part of that. They inspire many of my pieces. To quote Shannon Ralls Lemon: "The essential joy of being with horses is that it brings us in contact with the rare elements of grace, beauty, spirit and fire."
I strive to represent these same fundamental characteristics in my hand-made jewelry – selecting stones that are authentic and beautiful; stones that are gracefully shaped by master stone cutters; stones that are said to have spiritual properties; stones unearthed and often tempered naturally by fire, water, and light – set in basic metals of sterling silver and 100% copper or a combination. For the most part, I have my sterling silver horses cast in a foundry in France. My designs bring joy to collectors and admirers alike.
Always interesting how these thoughts turn out. The loose stone is Shattuckite mined in Arizona; sterling silver horses are cast in France.
"Head over Heels" was inspired by a little horse I rode many years ago on the ranch. This amazing little horse named Sam always made me look good. Shattuckite, a brilliantly colored natural stone, was mined in Bisbee, AZ and set in sterling silver with sterling silver accents. The pendant measures 3"h x 2"w and hangs from an 18" large link chain.
My passion for horses was so great that, here I am twenty years ago, saddled up and ready to ride in minus 10 degrees weather.
"For The Love Of Horses" was inspired by their loyalty, strength and kindness. A beautiful #8 Turquoise stone from Elko, NV. Is set in sterling silver with sterling silver accents. Of all I create, the ones with horses are always near and dear to my heart. A life-long ranching background does that. The pendant measures 2¼"h x 2½"w and hangs from an 18" wheat weave chain.
"Unbridled" is a large statement piece featuring an impressive Turquoise stone from the #8 Mine in Nevada shaped by Russ Kaniuth, Sunset Ridge Lapidary Arts, CA. The sterling silver pendant measures 3¾"h x 2¼"w and is highlighted with sterling silver accents – the horse was cast in a foundry in France.
Pamela Ànderson Comer comments on "Unbridled": "This is beautiful and I like the chain it is on as well, nice and strong and has some weight to it."
I replied: "Pamela, all my pieces are made to be passed down through the generations. I use 20-gauge sterling silver and good turquoise. Thank you for such kind words."
"Head Winds" features a Hubei Turquoise shaped by master stone cutter, Jason Brousseau, NM. Lots of great detail went into this piece – including the sterling silver horse. The pendant measures 2¼"h x 3" w and hangs from an 18" wheat weave chain. Worn wonderfully well with the addition of Navajo pearls.
"Head Winds" comments from facebook followers are so positive! Fronnie Bealer: "I really like the whole piece. The horse has a great expression." Paula Miller Potts: "Luv the stone luv luv the horse ... such beautiful work"
"Riding to My Run Away Place" was inspired by a special place high on a rim overlooking the vast nothing, hearing the breeze in the juniper trees, with the sound of the saddle leather squeaking, my horse breathing and my dog panting. This pendant showcases a sterling silver saddle and horse set on 100% copper accented with small piece of Nevada Turquoise and measures 2¾" h x 2"w and hangs from an 18" copper chain.
Here I am in the wide open spaces – the vast nothing – riding toward my "Run Away Place".
"Snowy River" Necklace was inspired by the movie, "Man From Snowy River" which was the all-time favorite that our kids grew up watching. This piece – like the movie – shows the spirit of the way life should be lived. The focal points – a bold sterling silver horse and turquoise stone – are set on a 100% copper pendant measuring 4"h x 2"w. The 18" neckpiece of turquoise nuggets finishes this work of wearable art.
This is how Judy Vaughn feels about "Snowy River": "It's beautiful Kathi. I love horses. And this is perfect."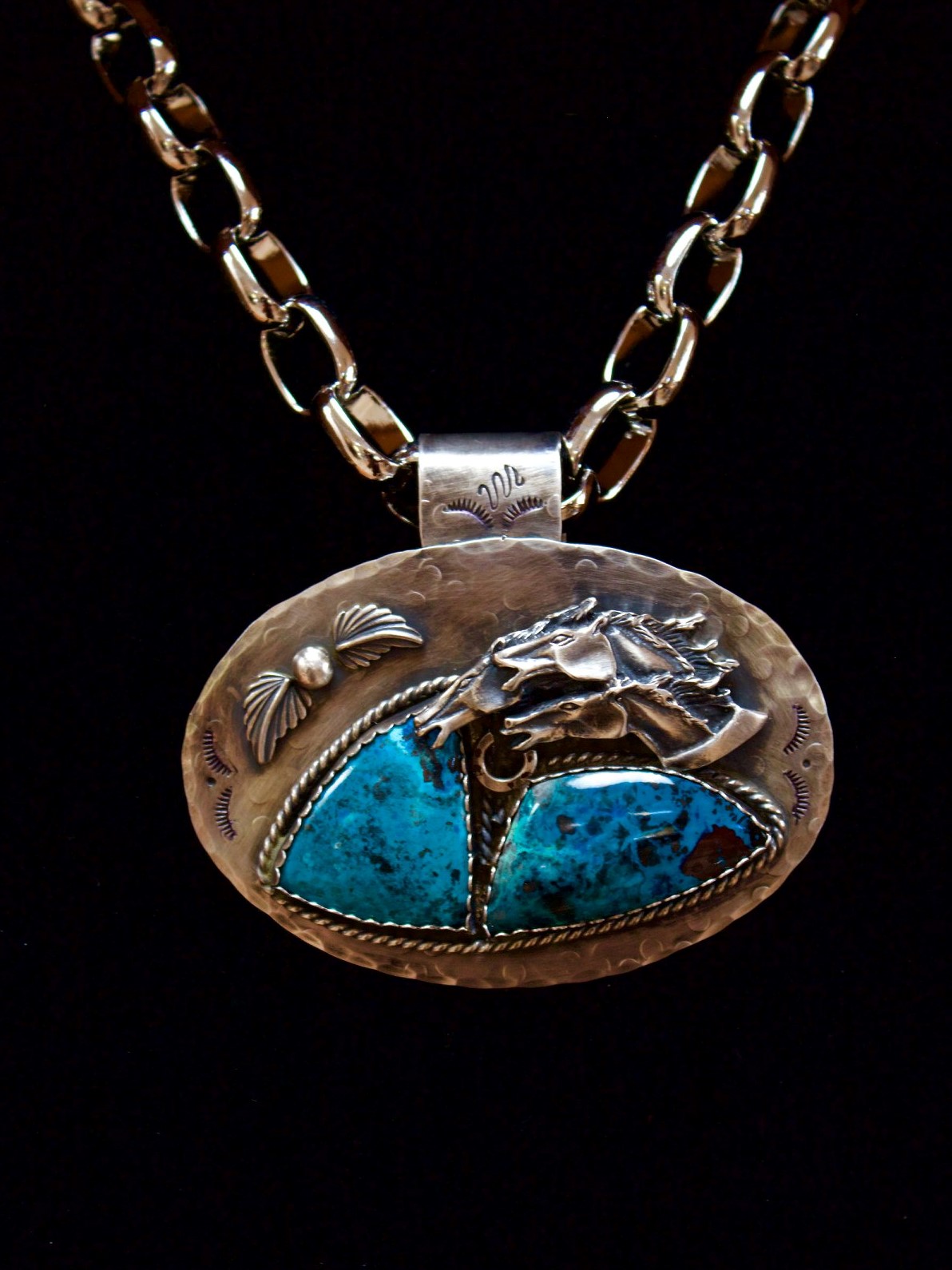 The "Remuda" Pendant is a one-of-a-kind showpiece that will never be redesigned again. These Shuttuckte stones (mined in Bisbee, AZ and known for their brilliant natural color) were cut by Russ Kaniuth, CA. Remembering the large remuda we had on our ranch in Southeastern Oregon, I placed a group of sterling silver horses that show tremendous movement above the stones. The pendant measures 1½"h x 3"w and hangs from a 20" heavy link chain.
Patricia Ogden lovingly comments: "So much Beauty and also magnificent I admire you for taking your time with your soul and heart for making such beautiful jewelry it puts such a great big smile on my face and thank you so much for sharing with me always God bless you always".
"There is something about the outside of a horse, that's good for the inside of a man." Winston Churchill