Mothers are a shining light – beginning with the lullaby, we seek the perfect relationship and the perfect visit.
Mother is the centerpiece of our life. Here the centerpiece of this "Shining Light" pendant is a Pink Rose Quartz cut by Russ Kaniuth, Sunset Ridge Lapidary, CA. This very feminine stone and color is set in sterling silver with sterling silver accents.
Appreciation for "Shining Light": Marilyn Root ~ Perfect craftsmanship! Mary Campbell ~ Love the work!!! Judy Vaughn ~ Wow! This is gorgeous. I love it! Karen Lashley ~ Soo pretty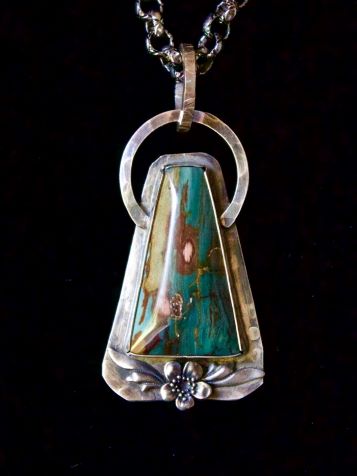 An awesome Mother's lullaby calms and delights. Here the "Once In A Lullaby" pendant presents an awesome piece of Gary Green Jasper set in sterling silver.
Awesome comments from facebook followers: Sue Faw ~ Just splendid! Ricardo Dow ~ Very unique...Excellent work Ann Poitras ~ Beautiful Art to wear🌸 Becky Gann ~ This one is Truly Exceptional...The WOW FACTOR 😲😲😎😍😍🤩🤩
How wonderfully perfect a relationship with Mother can be! Here "The Perfect Relationship" pendant in a more contemporary design features an awesome piece of Hubei Turquoise, shaped especially for me by master stonecutter Jason Brousseau, NM and set in sterling silver.
So many comments include beautiful - here are more: Paula Filyau ~ Unique and beautiful! Jessie Heinrichs ~ yes another WOW piece..love the shape! Darlene Green Haynes ~ Nice I love it beautiful workman ship Fronnie Bealer ~ That stone does have s special vibration. I can almost feel it through the screen
How special it is to visit with Mother! Here "The Perfect Visit" pendant showcases a stunning #8 Mine Turquoise stone from the Elko, NV. Cut by Russ Kaniuth, Sunridge Lapidary, CA. Sterling silver setting with sterling silver accents.
Various visitors to facebook are in tune: Patricia Watt ~ What a beautiful piece and that color is beautiful Anna Guzman ~ Wow awesome Denise Schooler ~ This is a wonderful piece. Jessie Leslie Woodland ~ This my favorite piece you have made. Beautiful