I've just discovered that I've been discovered by Cowgirl Magazine!
A magazine with authentic attitudes and articles that capture the fashion and flavor of the Wild West as it is lived and loved today.
A number of my collectors are subscribers and several who spotted this in the July/August issue connected to express their excitement – which added to my excitement.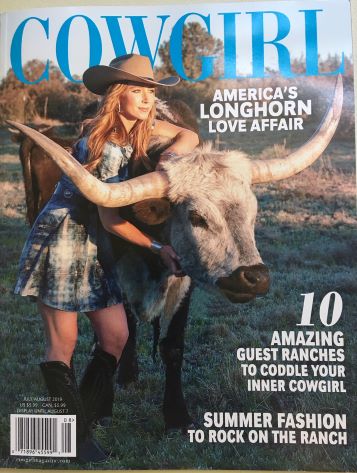 This is the cover of the Cowgirl Magazine July/August issue that was mailed to subscribers some three weeks before it hits the newsstands – now on sale as of June 12.
Who doesn't want to check out the 10 Amazing Guest Ranches and more! I love Cowgirl Magazine and am honored to be part of it. Two of the pendants pictured are available.
"Unbridled" is a large statement piece featuring an impressive Turquoise stone from the #8 Mine in Nevada shaped by Russ Kaniuth, Sunset Ridge Lapidary Arts, CA. The sterling silver pendant measures 3¾"h x 2¼"w and is highlighted with sterling silver accents – the horse was cast in a foundry in France.
"Riding to My Run Away Place" showcases a sterling silver saddle and horse set on 100% copper accented with small piece of Nevada Turquoise and measures 2¾" h x 2"w and hangs from an 18" copper chain.